78 minutes until travel exclusion 2021/07/20
A report about release frequency and the new travel exclusion feature
---
Fortunately, it did not take 78 minutes before a participant had to be excluded from a camp, but only 78 minutes before Bookacamp was able to deliver a requested feature.
Why is that special?
Many services on the Internet have delivery times of days to weeks, depending on the development and release process in the company. Bookacamp knows that fast delivery times for bug fixes or urgent features can make life easier for tour operators, especially in the current high season. The software and system landscape behind Bookacamp is able to roll out every change to the source code to the production environment in 30 seconds.
This technological foundation has ensured, that this week an urgently needed excel export for corona situations could be adapted during an 88-second phone call. From Bookacamp's point of view, such short-term, individual changes to specific needs of the tour operator are not a necessary evil, but rather give us pleasure, because they make the life of the users immediately easier.
But what is travel exclusion about?
Fortunately, it rarely happens, but there are participants, who have to be excluded from a camp due to their personal socio-educational situation. Tour operators usually do everything in their power to prepare their participants for a nice trip - if the educational concept and team size are still exhausted, participants my be excluded. Nobody likes to do this, but it is sometimes necessary for the camp to run smoothly. Another reason is outstanding payments or aggressive communication that excludes a specific customer from being a contractual partner. In order to meet this group of customers, tour operators now have the option of marking a booking for future travel exclusion. That doesn't automatically mean, that these bookings will be blocked - people keep evolving. It means that these registrations will go into a queue and will be checked before confirmation by the tour operator.
Find an overview of releases per day of the last couple of weeks. It has been 92 releases on july so far.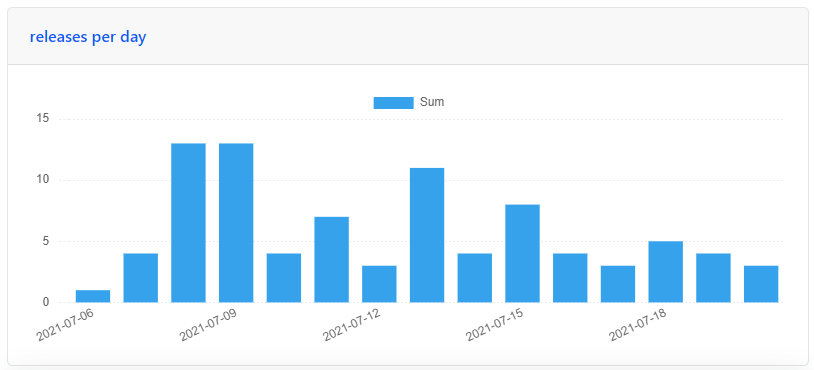 Author: Mathias Methner